Avoid an embarrassing accident, by always using Wheel Chocks!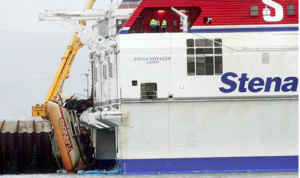 Sounds like an obvious thing to do, much like applying the handbrake in your car. However, this didn't happen on the Stena HSS ferry when it left the Stranraer Harbour. Almost two hours into the journey a tanker lorry managed to roll free, bursting out of the ships rear doors.
Luckily, no one was hurt in the accident but 200 passengers and crew where left stuck whilst they waited for a 400-tonne crane to lift the lorry off the ferry.
Normally when a lorry is not in use, the brakes are applied and Vehicle Wheel Chocks are secured against the wheels to stop it from moving.
This expensive incident cost the company £1million in repairs, and could have been prevented if Vehicle Wheel Chocks had been used to secure the lorry. Ronfell provide a wide range Wheel Chocks for different types of vehicles; so don't leave you or your company vulnerable to an incident that can be easily avoided.
For more information call our friendly wheel chocks sales team on 01257 795186 or email sales@ronfell.com.